Elevating Your Business Image through Professional Logo Design and Branding
Your logo and branding are the visual representations of your business, shaping the way others perceive and assimilate your brand. Unfortunately, logo design and branding are often neglected, which can have negative ramifications for your business.
At Beautiful Websites, we understand the importance of professional logo design and branding in enhancing your business image. Our team of experienced designers has vast knowledge and expertise in creating impactful logo designs and consistent branding that captures the essence of your business.
We have established processes and procedures that ensure the logo and branding we create for you not only visually represents your business but also boosts your business image through attention-grabbing graphics and consistent branding.
If you're looking to elevate your business image and create a strong visual representation of your brand, contact us now for a free quote or consultation. Our team will work with you to understand your unique business needs and requirements and create customised logo and branding solutions that meet your specific goals.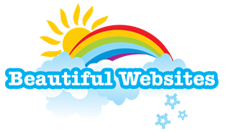 Why choose us?
We pride ourselves in honesty and delivering what we promise, we always work in a timely manner, we treat our clients with respect and we will never spring un-expected costs or prices on you. We will never start doing any work for you unless you have explicitly approved the quote or estimate.
Accumulatively we have over 30 years of experience in building websites and custom software. We don't just talk to the talk but we also walk the walk!
We are the medium through which your concepts are made into online reality
We offer friendly and reliable service and most importantly we abide by one simple philosophy:
WE ALWAYS DELIVER WHAT WE PROMISE